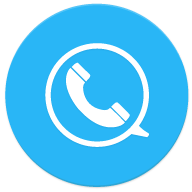 Over 7 Million Downloads!
SkyPhone is a simple and free calling app.
Just listen and you'll soon notice the high quality sound.
You can start using the app without having to register your personal information.
Enter your profile and share your SkyPhone number with friends and family.
SkyPhone users can enjoy the clear, high-quality voice calls on SkyPhone for FREE.
Simple UI !
The Allow Contacts Only feature blocks calls from unregistered contacts.
You can connect only to those who you want to. Use SkyPhone as a dedicated phone app to make calls to your loved ones.
The Noise Cancel Feature allows you to hear the other person more clearly and talk without any problems even if you're in a large crowd of people.
If you set the Call Sound Quality setting to Low, you can enjoy talking for a long time even if you are in an area with a weak signal or your data speed is reduced.
[What's outstanding?]
– Clear voice call with a high quality sound
– No registration is required
[Main Features]
– Free voice calls
– Free video calls
– Allow Contacts Only function
– Do Not Disturb function
– What's New function
– SkyPhone Number Transfer function
– Incoming and Outgoing Call History
– Contact List
– Mute, speaker and noise canceling function
– Set your favorite ringtone
Click the URL below for the FAQ of SkyPhone.
www.skyphone.jp/en/support/
Note: Please refer to the following URL about the incoming call failures on the HUAWEI or ZenFone device.
www.skyphone.jp/blog/en/cat/device_en/
+++++++++++++++++
Check our updates such as our present campaign info and release info of new application version on our blog.
www.skyphone.jp/blog/en/
+++++++++++++++++
[Requirement]
– Android 5.0 or later
[Notice]
– Voice calls with SkyPhone are only available between SkyPhone users.
– Data communication takes place in the use of the service. You are responsible for the data charges.
– Even if your device meets the requirements, voice and video calling functions may not work correctly on some devices. In that case, please refer to the FAQ or contact our support team.
[Contact Us]
www.skyphone.jp/en/form/inquiry
[Ver.1.7.27]
– Some UI changes.
[Ver.1.7.26]
– We have adjusted the ad display on a screen.