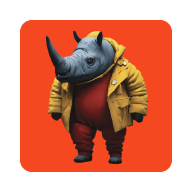 Write anything in Russian, and the Yandex neural network will create a picture or text that fits your description. And it's completely free! Just download the app and dive into the world of digital art.
If you want the generator to create an image in a specific style, go ahead and tell it. That might be "portrait of a man from outer space in the style of van Gogh" or "cute, fluffy kitten in a fairytale style". Decide what you want and check out the result.
You can ask the neural network to generate a story, joke, fairy tale, or even proverb. If you write "compose a story about a trip to Jupiter" or "tell me a joke about a hamster", you'll get exactly what you asked for.
And while the AI is generating your image or text, you can scroll through the feed, comment on other users' posts, and like them. Feed has a few sections: your masterpieces, recent, and the best of the day, the week, or all time. You can save your favorite pictures to your phone.
If the generation process takes more than two minutes, the application will send you a notification when your image or text is ready. The AI will show you the completed text or four pictures to choose from, and you can post the best one. With unlimited attempts, you can generate as many masterpieces as you want. You can also subscribe to your favorite author and follow their publications in a separate feed.
The app is still in beta mode.
By downloading the application, You accept the terms of the License agreement yandex.ru/legal/shedevrum_mobile_agreement/?lang=en
The new YandexART model is already in the app. Images are now more realistic, and the model better understands cultural references. It can generate, for example, a purple Cheburashka or Baba Yaga in Gzhel style.