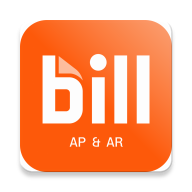 The BILL AP & AR app simplifies business payments and receivables for companies of all sizes. Whether you're focused on accounts payable, accounts receivable, or just looking for an easy way to collect payments from a customer, BILL AP & AR streamlines tedious, manual processes—saving you 50% of the time spent paying and approving bills and helping you get paid 2x faster.
AUTOMATE AP AND AR
Streamline your processes to spend less time on payments in and out.
PAY YOUR WAY
Choose from a wide variety of payment options including ACH, international wires in USD or local currency*, virtual card, credit card, or check.
TURN DOCUMENTS INTO BILLS
Reduce manual effort by capturing documents in seconds and easily processing them into bills.
CREATE INVOICES
Send invoices on the go to get paid faster.
TRACK PAYMENTS
Get detailed information and real-time notifications about bills including payment status.
SEND PAYMENT REMINDERS
Stay on top of payments to ensure you don't miss a single payment.
SIMPLIFY APPROVALS
Say goodbye to manual payment approvals and hello to approvals anytime, from anywhere.
MANAGE PAYMENTS IN ONE PLACE
See important action items—like pending approvals and payments—on one simple overview screen, so you're always up to speed and on track.
*Initial vendor setup from your desktop is required before sending international payments using the mobile app.
If you're looking to manage spend and expense on the go with BILL, please download the BILL Spend & Expense app.
Additional bug fixes and performance improvements.